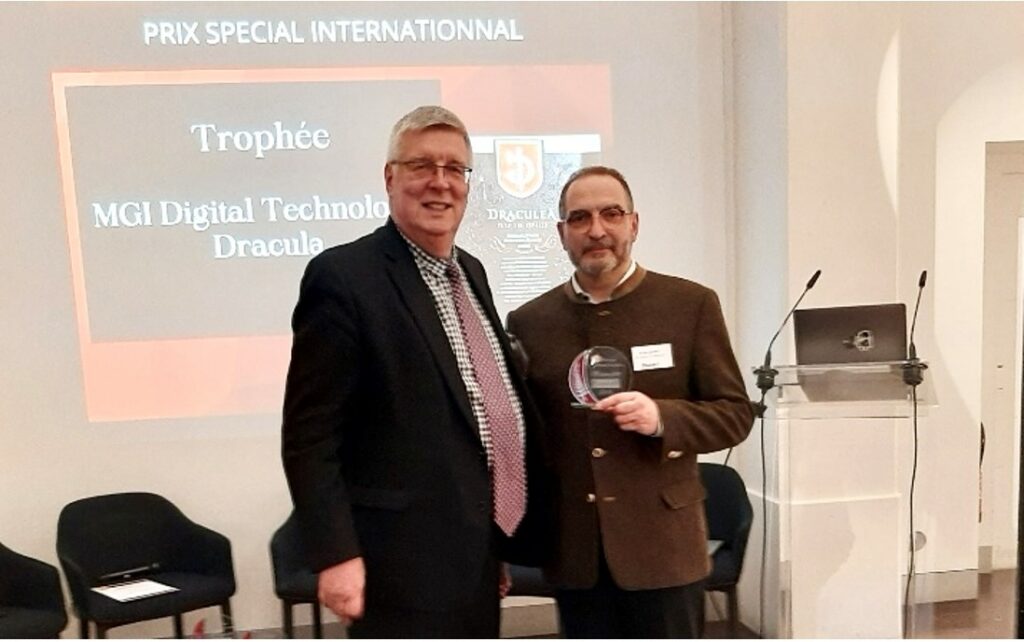 Romanian printer Etichete Flexo wins the 2023 Digital Label Trophy, with MGI!
Romanian printer wins the 2023 Digital Label Trophy of the ETIQ & PACK magazine, in the "International" category, thanks to a model ennobled with a digital 100% MGI JETvarnish 3D Web technology.
Fresnes, 23 March 2023,
On March 20, 2023, the 11th award ceremony of the Digital Label Awardsorganized by the magazine ETIQ & PACKThis year's event was held at the Hotel de l'Industrie.
This 2023 edition, eagerly awaited as every year, was the occasion for the presentation of the coveted ETIQ & PACK AWARDSThe awards were grouped into 12 sectoral categories. The jury, composed of 5 European journalists (Labels & Labelling, Geigen Media, Etiq & Pack) had the difficult task of choosing the most beautiful technical realizations, among a hundred models of labels presented by French and foreign converters.
At the end of the jury's deliberations, 13 trophies were awarded this year, plus 10 Special Mentions, as it was so difficult to choose between certain achievements, demonstrating the high level of quality offered by digital printing and finishing technologies.
In the "International" category, the Romanian printing company Etichete Flexo won the 2023 Trophy for a Draculea wine label, finished on a digital press MGI JETvarnish 3D Web.
Founded in 2006, Etichete Flexo is a family-owned company, based in Alexandria and Bucharest, specialized in the printing of adhesive labels.
It uses a printing fleet composed of flexo presses, but also digital presses, with Konica-Minolta Accurio Label 230 and Durst Tau, and digital finishing MGI JETvarnish 3D Web. This technological duality allows the company to position itself on all types of productions, while offering a very high level of quality.
It is precisely the quality of a Draculea wine label, finished with 3D selective varnish and MGI digital hot foil stamping, that caught the attention of the Awards jury, because of the technical difficulty of applying this type of finishing, with such a high level of quality, on a very open textured substrate.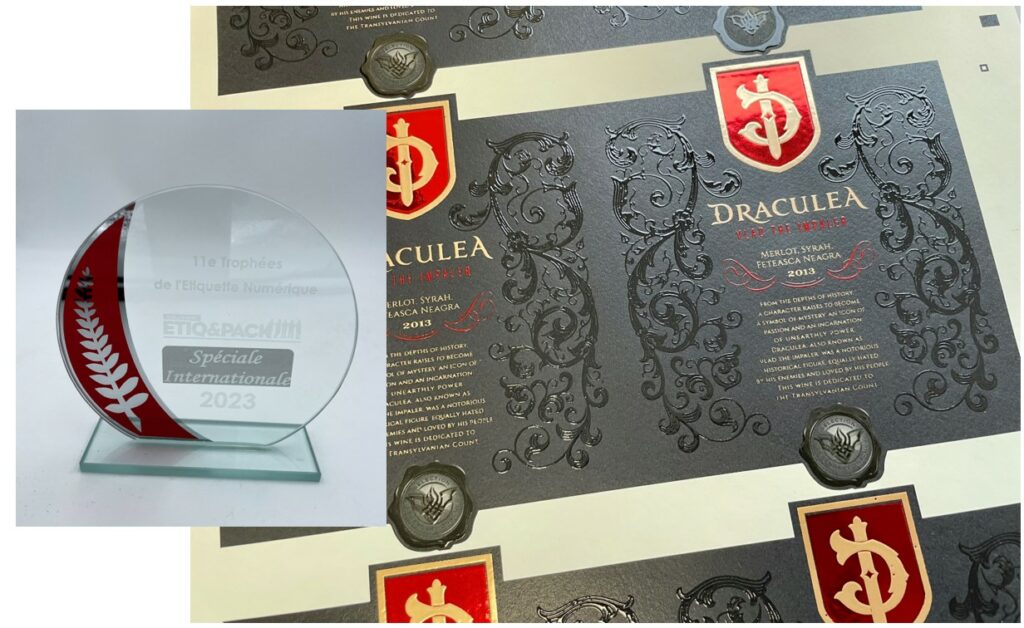 The press speaks about it