A trophy for MGI Approve
MGI Approve, the BAT 4.0 in augmented reality, wins the 2020 Packaging Award
The 2020 Packaging Awards rewarded MGI Approve, the very first cloud application for 4.0 Online Proofing Tool, allowing to visualize, manipulate and validate virtual packagings, remotely, by positioning them in their context, thanks to augmented reality.
Since their creation in 1954, the Packaging Awards have been one of the most sought-after industrial awards in Europe in the field of packaging. A highly anticipated event for the industry, the Packaging Awards are awarded by a jury of professionals in 24 different categories, ranging from materials to machines, including the most innovative technologies and packaging in the sector. This year, Approve, MGI Digital Technology's BAT 4.0, unanimously won over the jury members in the "Promising Debut" category, a highly envied category, as it gives pride of place to innovations and technological breakthroughs.
MGI Approve: facilitating trade between the printer and his customers
MGI Approve allows a printer to offer its clients a brand new service for remote viewing and validation of virtual 3D proofs, more real than life, offering a unique level of realism, particularly in the rendering of subtle details such as selective varnishes and hot stamping, flat or relief. These virtual 3D proofs can be manipulated with a simple mouse click by agencies, brands or platforms, in order to appreciate all the subtleties. Driven by artificial intelligence and integrating augmented reality, MGI Approve allows to manipulate a packaging in 3 dimensions, to place a label on a bottle, to position it at the right place, or to visualize a packaging in a store, in order to immediately validate its impact. A collaborative tool, MGI Approve allows the printer and the client to discuss in chat or video-conference, to annotate a project and then to validate it.
MGI Approve: highlighting the impact of finishing on packaging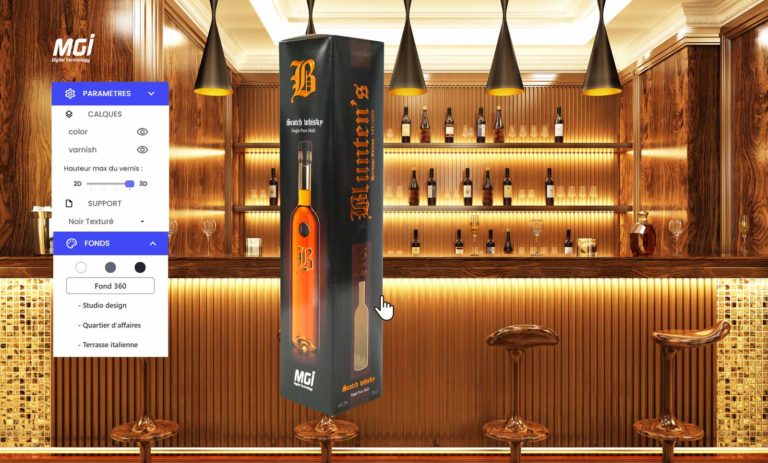 At the genesis of the project, MGI Digital Technology's desire to highlight the differentiation that hot foil stamping and UV selective varnish bring to a packaging, as explained by Edmond Abergel, CEO of the company:
"Two years ago, at the beginning of the Approve project, we made two observations: first, that in an increasingly digital production flow, the approval stage was a major bottleneck. This stage required numerous mock-ups, could take several weeks of meetings and travel, and was very costly. Our second observation was that it was not easy for a packaging producer to highlight, during this stage, all the differentiation brought by the finishing. It was impossible to make countless models, playing with the thickness or texture of a varnish, or a foil color, to make the right choice!
MGI Approve: a secure, immediately deployable service

Based on this premise, the MGI Labs teams in Strasbourg worked for two years on a cloud solution that is simple to deploy and use, and requires no IT investment. "MGI Approve is a service hosted in the cloud," explains Frédéric Soulier, director of MGI Labs. "It does not require any IT investment on the part of the printer or its customers, and operates on a subscription basis. MGI Approve can be completely customized to the graphic charter of the printing company or the client brand and is very easy to deploy. Its use is almost immediate, and requires very little training. Hosted at Dassault Systèmes, in France, MGI Approve benefits from a total encryption of the exchanged data, for a total security of the brands"
MGI Approve: a service that can be integrated into any production flow or e-commerce site

Developed in API, MGI Approve integrates, in white label, in any prepress flow, ERP, production flow or commercial site. Integrating its own PDF Callas engine, MGI APPROVE uses simple PDF files generated by the printer's prepress department, without the need for any job ticket, to build up complex packaging, using folding and cutting lines, or to apply a label on a bottle or a flask.
MGI Approve: a business development tool

Easy to use, MGI Approve allows you to multiply the number of models at low cost, to allow a brand to choose the models with the highest impact at the point of sale. Collaborative, MGI Approve reinforces the communication between the manufacturer and its customers, by offering a modern tool for project validation. Annotating a submitted project, engaging in a discussion in chat or video-conference around a model allows to gain time and efficiency, by abolishing the notions of time and distance.
MGI Approve is already available.