The AlphaJET at Luxe Pack
MGI presents the AlphaJET, the very first Factory 4.0 of the industrial printing sector, eco-responsible of sucroît.
The Luxe Pack 2021 trade show, which took place this year from September 27 to 29 in Monaco, was an opportunity for MGI Digital Technology, to highlight the AlphaJET, the very first Factory 4.0 in the industrial printing sector, and the de-inkability of its Eco Varnish UV coatings and Green Foil hot foil stamping on certain substrates.
Disruptive innovation, the AlphaJET combines on a single B1 production line, four-color printing, UV selective varnishing, protective varnishing and hot foil stamping, using a digital 100% process, combining operations that were previously performed on several conventional machines.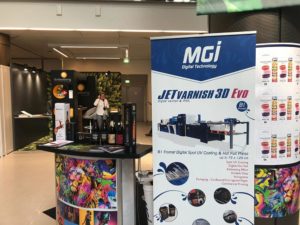 By its unique architecture, the AlphaJET allows to simplify and accelerate the production flow of the printers, by removing the breaks of load, operations of subcontracting and the recourse to tools (clichés, forms, plates) and consumables of single use (solvents, powder).

Controlled by a single operator, the AlphaJET makes it easy to produce high value-added packaging and printed matter, integrating variable data, varnish finishing and hot foil stamping on paper and cardboard ranging from 250g/m2 to 2mm thick.

During the exhibition Luxury PackVictor Abergel, VP Sales Marketing of MGI Digital Technology presented the AlphaJET, insisting on the fact that it allows to realize de-inkable packagings and prints - according to the Ingede 11 standard - on some substrates, thus recyclable, and on its integration with brands, throughApprovethe first remote 3D and augmented reality proofing solution. An ideal solution to reduce the time to market in the field of packaging.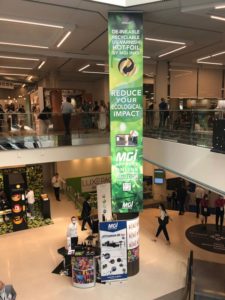 Luxe Pack was also the opportunity for MGI Digital Technology to present a proof of concept in partnership with Unisto, consisting of a whisky bottle with integrated light - to boost its visibility at the point of sale - and a seal with an NFC tag allowing, with any smartphone, directly in store, to access an application developed by MGI, offering couponing and a product presentation video.

Last but not least, the bottle case (printing, selective UV varnish, protective varnish and hot foil stamping) had been printed in a single pass.... on AlphaJET!