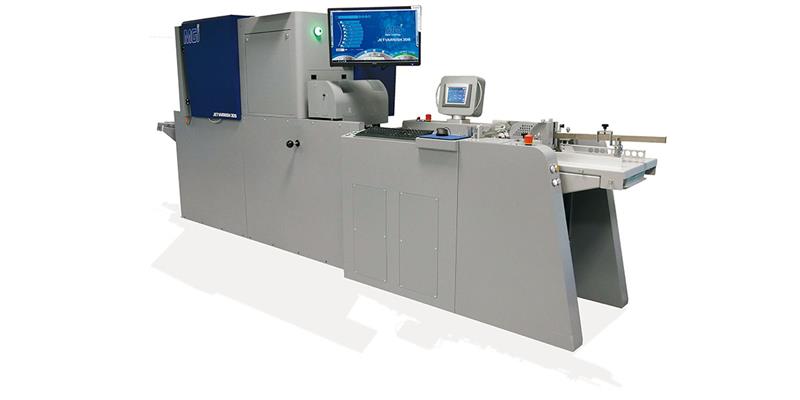 JETvarnish 3DS & iFOIL S
Discover the selective varnish and hot foil stamping finishing solution designed and manufactured by MGI Digital Technology for Konica Minolta (exclusive distributor).
Don't limit yourself to printing high quality documents, it's time to offer your customers high value and new creativity. JETVARNISH 3DS easily transforms your customers' prints into high value products that are simply irresistible. The JETVARNISH 3DS allows you to apply an ultra-precise selective varnish on all your digital prints. Your customers will discover new visual and sensory effects.
You can create a 3D effect on the laminated surfaces or directly on the toner, thanks to the new varnish formula in combination with Konica Minolta print heads. The variable data option adds personalization capabilities for impactful and innovative communication.
You can choose the areas to be sublimated and vary the thickness of the varnish. The combination with the iFOIL S inline hot foil stamping module opens the doors to the hot foil stamping and digital embossing market. From magazine covers, books and brochures to labels, invitation cards and packaging, you will be able to offer your customers new and exceptional services.
General characteristics
Formats
Min : 21 x 30cm (width x length)
Max : 36.4 x 102cm (width x length)
Margin
Margin that can handle a stack of paper up to 30cm large capacity 3000 sheets at 135 gsm
Recipe
Receipt that can handle a paper stack up to 30cm high stack 3000 sheets at 135g/m².
Substrates
Printing on most coated surfaces, matt or glossy, with or without water-based varnish, coated paper, plastic, PVC and other coated materials (1)
Selective 3DS varnish directly on most digital prints, no lamination or varnishing required (1)
Substrate thicknesses
Min: 135g/m² or 150 µm (6mm) before printing and lamination
Max: up to 450g/m² or 450 µm (24mm) with printing and lamination
Selective UV inkjet
General
UV inkjet developed by MGI
Drop-on-Demand (DoD) technology
Piezo heads. Single pass printing
Modular and scalable printing architecture
Production speed
In 2D/flatbed mode: Up to 2,298 A3 sheets per hour (with 15 μm)
In 3D/embossed mode: Up to 1,624 A3 sheets per hour (with 30 μm)
Printing width
Printable width max. 35,5cm
Varnish thickness
The coating thickness may vary depending on your file, the inks used and the type of surface of your sheet
On a film and water-based coating: 15μm -100μfor 3D relief effects and a tactile finish
On toner and coated paper: 30μm -100μm for 3D relief effects and tactile finish
Tracking
Automatic on-the-fly registration with the Artificial Intelligence-driven SmartScanner AIS, which scans each page and corrects the coating application on the fly, if necessary.
Digital hot stamping
Production speed
Up to 2298 A3 sheets per hour (20 meters/min)(2)
Embossing
Thickness from 15 to 100 microns
Thickness from 15 to 200 (with double option) microns
Hot stamping area
35.5x100cm
Stamping coils
Standard internal chuck: 1 inch - Min./max. widths 10/36 cm
Optional 3″ internal chuck
Length of 400 meters (average)
Up to 2 rolls loaded simultaneously on the same media
Other options
Corona treatment (3) (4)
In-line system designed to optimize coating adhesion on complex printed substrates
Variable data WTP
Management and modification of files on the workstation
Complete variable data (text, graphic, image) for selective varnishing and gilding areas.
Integrated barcode reader (1D / 2D)
Optional Raster Image Processor (RIP)
Dimensions
Dimensions (W x D x H) & weight: from 4.25 (5.50) x 1.06 x 1.80m(5)
Necessary clearance: 1m on all 4 sides
Up to ± 1400kg(5)
(1) contact MGI to check compatibility with your substrates / lamination / toner / acrylic varnishes
(2) the speed varies according to the parameters used
(3). recommended on substrates larger than 42cm width
(4) recommended on papers over 250g / 250µm
(5) depending on the chosen configuration
addressed markets
examples of achievements