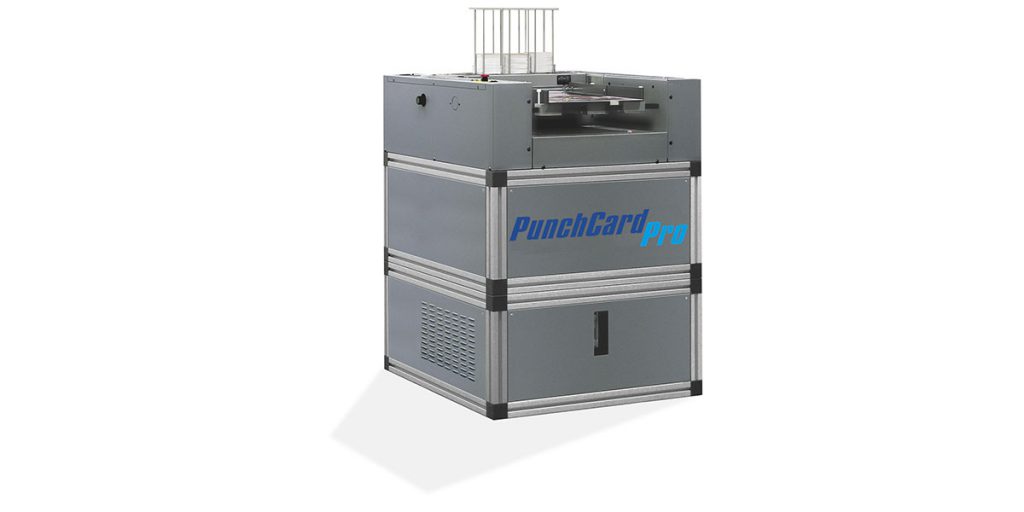 PunchCard Pro
Hydraulic cutting unit to produce cards in ISO-CR80 format
The PunchCard Pro is a hydraulic and semi-automatic cutting unit that can produce up to 6,000 cards in ISO-CR80 format (rounded corners).
Its footprint is particularly small (less than 0.6m²).
PunchCard Pro can cut all types of substrates, from paper to PVC (300-850µ).
It is equipped with optical sensors to read printed marks in order to automate the cutting process. The die-cut cards are stacked in 3 separate stacks. Other cutting shapes are available (on request).
General characteristics
Sheet formats
Width : Minimum : 300mm - Maximum : 330mm
Length : Minimum : 190 mm
The 13″ x 19″ or 330 x 482mm size is recommended to ensure compatibility with the Press Card Pro.
Cutting size
85.5 x 54 mm - ISO CR-80 format - Printing and lamination
Lifetime
20 million cards in ISO CR-80 PVC at 850µ (or 7 million cards in synthetic substrates) before re-sharpening.
Interchangeable and re-sharpenable cutting tool
Dimensions and weight
Dimensions (W x D x H): 720 x 790 x 1300mm

Up to ± 225kg
Card thickness
PVC, Polyester, Plastic & Paper : ± 300-850 microns
Cutting speed
Up to 6,000 ISO cards/hour
Cutting size
85.5 x 54 mm - ISO CR-80 format
Power supply
220 V/50 Hz -110/60Hz
Power : 1,8KW
addressed markets
examples of achievements