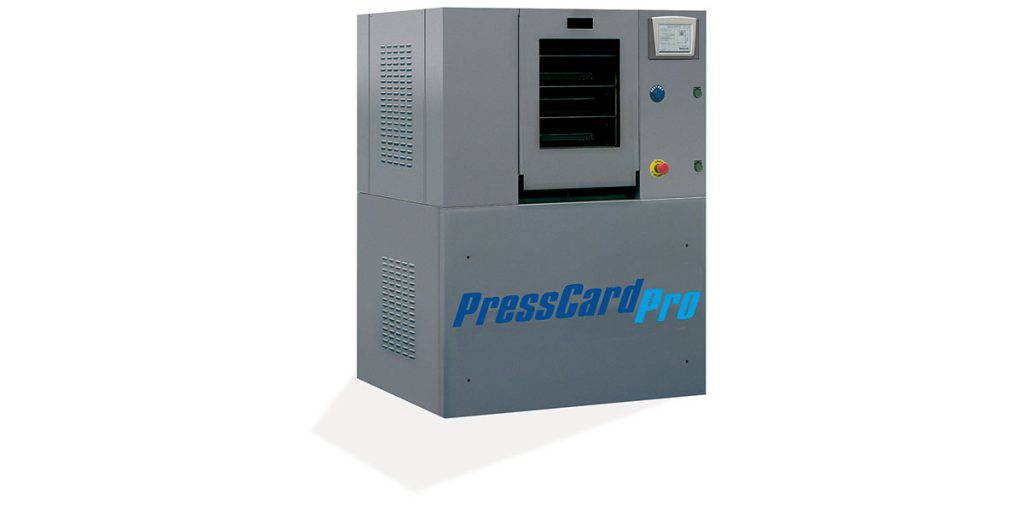 PressCard Pro
Industrial lamination press
Industrial lamination press for all plastic, synthetic and paper substrates. The PressCard Pro has a particularly compact format (less than 1.5m²)
PressCard Pro can produce up to 30 laminated boards per lamination cycle. From a sandwich of several layers of laminable substrates, it can produce laminated boards with a total thickness ranging from 200 to 1000 microns.
The lamination cycle is fully customizable by varying the desired time, temperature and pressure. An average cycle lasts from 20 to 30 minutes.
PressCard Pro is an essential link in the production of plastic cards, POS and signage. The substrates that can be used are PVC, PET, synthetic and non-synthetic papers, etc...
General characteristics
Process
The standard process is made from one or two sheets of 180 to 300µ PVC, with a transparent overlay of 50 to 75µ.
Sheet format
330 x 482mm maximum
Imposition cards
21 to 24 ISO format exposures (54 x 85.5mm) on a 330 x 482mm format
Operating cycle
Application of a maximum hydraulic pressure of 120 bar
Water cooling (water in / water out)
Weight and size
(W x D x H) : 950 x 800 x 1610mm
Speed
Up to 2400 cards/h in 250-300µ
Up to +2000 cards/hr in 760µ (ISO CR-80 format)
Consumables
Clear PVC overlay, Polishgard, low melting point PVC spacer, stainless steel plates.
Moving parts
3 mobile trays that can hold 10 stainless steel plates each, i.e. 30 PVC 760 µ sandwiches
Power supply
400 Volts three phase - 32 A
Power : 20kW
addressed markets
examples of achievements